THE BOUND is about a subculture of people who allow themselves to be mummified or intricately bound in rope. Rather than approach her subject as a fetish, Heyert explores the complexities of using the body as a site of experimentation, meditation, and transformation.
"A friend told me about mummification, a practice among a small group of people that involves someone being wrapped in bandages or plastic material until they are immobile. It requires a skilled practitioner who has won such a high degree of trust from a partner that he or she will submit to the experience of being rendered physically powerless and emotionally isolated. That relationship, between a creator who needs the compliance of their subject, and a subject willing to put themselves completely in the hands of that creator, seems to me the quintessence of an artistic bond. The layers go deep, involving trust, safety, vulnerability, dependence, creative and emotional need, and the very nature of intimacy.
THE BOUND series was possibly the most emotionally difficult I have undertaken. The nature of the practice, involving a very personal and intense union of trust and dependence between practitioner and their subject, allowed no way in for someone on the outside. Although I often prefer to work as an outsider, I was more aware than usual of not being part of the group, even as the beauty of the figures, and the emotional bravery of the subjects drew me in. I confess that I did not fully understand the motives or the desires leading people to mummification. I have wondered if going so deeply inside oneself after giving up all control and responsibility for one's own well-being, mirrors the experience of being in the womb."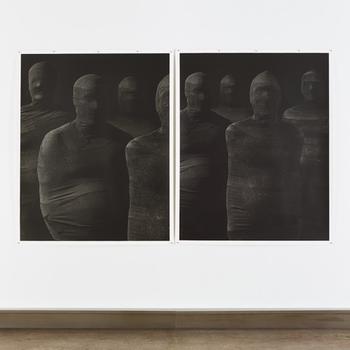 Process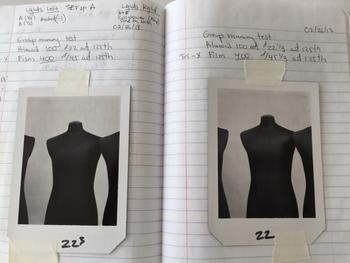 To make Diptych 1, with five male subjects each wrapped in black against a black background, Heyert experimented using headless tailors dummies covered in matte black cloth to perfect her lighting. Once the subjects were wrapped they could not move or endure being frozen in position for more than a few minutes. Wrapping was performed in stages so the subjects could be placed into position while they could still walk. Several practitioners wrapped the figures; with assistants making sure the subjects did not fall or dehydrate. Heyert had barely five minutes to expose film before the first of the five men started to flag.
The photographs were taken with an 8 x 10 Deardorff view camera using Kodak Tri-X film and strobe lighting. The final prints are 47.25 inches x 60 inches (120 x 152 cm) gelatin silver on Ilford Matte Warm paper, in an edition of six each.