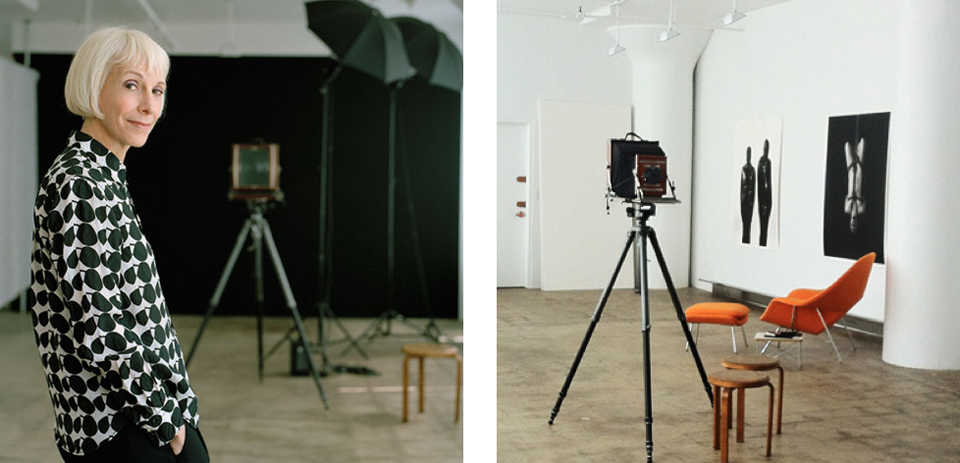 Photography has been Heyert's passion since she was 16. It led her to the Royal College of Art in London, where she studied with Bill Brandt, and back to New York where she wrote her first photography book, and established an international reputation as an architectural photographer. She first captured the attention of the art world with a decade-long body of work, her photographic trilogy of experimental portraits, THE SLEEPERS, THE TRAVELERS, and THE NARCISSISTS.
Her recent projects include THE BOUND, which explores the body as a site for experimentation and transformation, and THE OUTSIDER, a conceptual portrait project shot in China. Her latest project, THE IDOL, a series about religion, popular culture, and the ways society creates myths and false images about women, is currently on exhibit at the 2019 Venice Biennale.
After shooting around the world for publications such as The New York Times, New York Magazine, American and British Vogue, Elle Décor, and Architectural Digest, and for clients including Ralph Lauren, Cartier, American Express, and Tiffany & Co., Heyert's successful 20 year career allowed her to close her commercial studio, to return to a more personal exploration of photography. She began experimenting with unconventional forms of portrait photography. Within three years she had her first one-person show of THE SLEEPERS, at the Edwynn Houk gallery in New York.
THE SLEEPERS, a series of monumental toned black and white portraits of sleeping nudes, is a meditation on the mystical world of sleep and the naked emotions of the unconscious. Reviewing the exhibit, The New Yorker wrote that the photographs: "conjure thoughts of human fragility and impermanence even if the sleepers have become heroic sculptures rising from a deep slumber." Sei Swann/D.A.P. published a monograph of THE SLEEPERS, with an essay inspired by the works written by the playwright John Guare.
Heyert's obsession with sleep and oblivion led her inevitably to photograph THE TRAVELERS, a series of large-scale color post-mortem portraits. Heyert presents the dead as she would the living, beautifully dressed against a black background with the traditional lighting of a formal portrait. First exhibited in a one-person show at the Houk gallery in New York, the photographs stirred discussion and controversy.
Photo Credit: Nina Subin